In the present globalized world, a feeling of solidarity is growing like a light of hope which shows itself in many ways. There are for example the efforts to join forces to protect the environment; to save children from ignorance and distress; and to lift communities out of extreme poverty.
For this noble reason, Arequipa, like many cities in Latin America, has had the invaluable help of foreign friends and institutions who voluntarily work with abandoned children and the handicapped, in nurseries, in schools, in health centers etc.
Using its experience Ceica Peru Spanish School has designed some special programs for those interested in learning or improving their Spanish and/or participating in voluntary work.
You will improve your natural abilities in a completely different culture. You will learn a great deal from the new situations that you will be met with in your work place. All of which will enrich your perception of life.

You will contribute to the education and upbringing of children in schools or in care.

You will discover your strengths and talents. You will develop new abilities that will serve you for the rest of your life.

You will gain work experience.

In a cultural exchange, you will learn about Peruvian culture and we will learn about your country and life in other countries.

And for those who wish to improve their knowledge of Spanish, there is nothing better than practicing it every day at work.
Requirements for volunteering
Be at least 18 years old.

Choose the Volunteer Program which is closest to your needs.

Have an open mindset to understand the restrictions that our traditional conservative culture imposes, for example when you are working wear appropriate clothes (no miniskirts, shorts, low or skimpy tops etc); avoid romantic relationships with the personnel or youths in care.

Obey the personnel in charge of your social project.

Behave morally in the volunteer work place and be willing to comply with the norms established by the institution.
Found a program you're interested in? Calculate the cost in your currency on our prices page.
Volunteers can choose to work in the following places:
Peruvian Hipotherapy Association
---
This association has provided rehabilitation using horse riding as therapy since 2004. At the moment, 60 patients are participating in equine therapy, the majority of whom are poor physically challenged young people. The voluntary work involves accompanying a therapist during the sessions to look after the patients. Each session lasts approximately 45 minutes and volunteers can work as long as they wish (Monday to Saturday). No experience in horse riding nor physical rehabilitation is required.
---
Cuna Jardin (nursery)
---
This institution helps the Zamácola community by taking care of children so that their parents can work. It provides an all round service (education, feeding, care and guidance) to children from 2 to around 12 years old. Volunteers have the opportunity to help to look after the babies; join the team of teachers and help in classes, or workshops (art, theater,sport etc). In the school library, especially in the afternoon (from 2.00 to 6.30), they can help students with their homework and motivate them to read.
---
The Girl's Home
---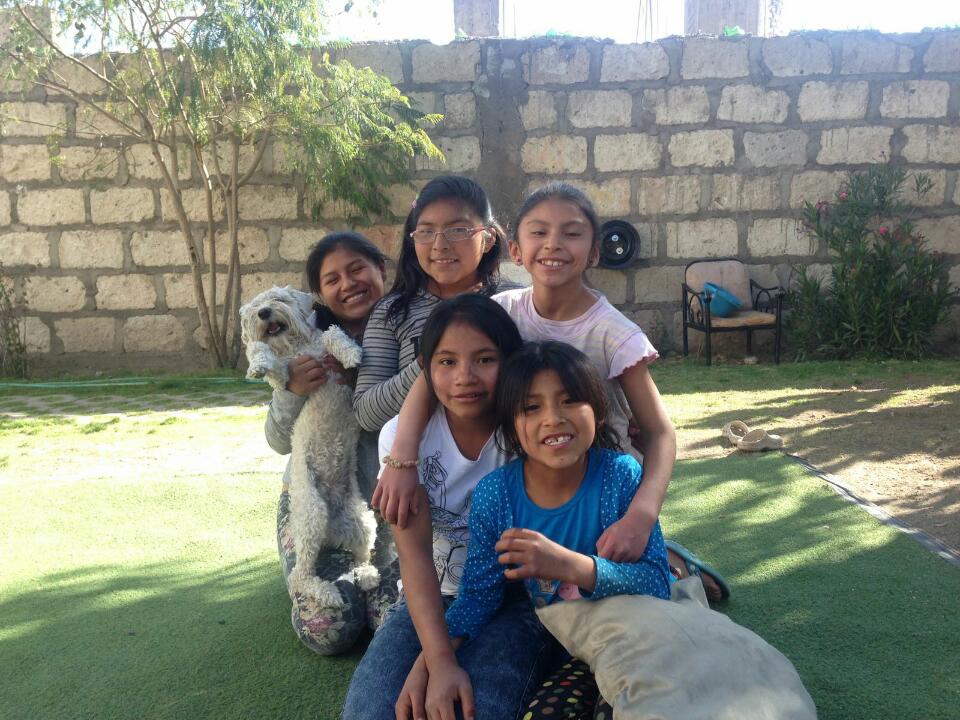 The Girl's Home is a Christian/Jewish organisation which aims to provide a family environment where the girls they care for can heal and grow. They also supply education, medical, dental and vision care. Although it is run by an American Priest, they employ many locals and also employ the girls who have grown up in the home after they are of leaving age (if the girls wish to stay on). The Girl´s Home are flexible in how volunteers work. Their greatest need is homework help, for which a good standard of Spanish is required, but there are many other tasks that need to be completed. Volunteers are welcome to come and roll up their sleeves and help with anything that presents itself on a day to day basis!
---
Rehabilitation Center
---
In rehabilitation centers for physically challenged children such as the Sacred Family Integrated Institution for the Disabled, run by Dr. Maria Luz Barreda. In this institution volunteers join a group of professionals who are involved in the rehabilitation of children. They also give counseling to their families to help them accept and adapt to their situation. Volunteers can organize social pedagogic and psychology workshops for parents or university students.
---
Educational centers
---
In educational centers, from April to December, mainly with young primary school students aged from 4 to 9. In these institutions volunteers can, in coordination with the school director, prepare workshops of reading, theater, art etc. These workshops should educate children in the importance of good nutrition, health care and protecting the environment. They should also reaffirm moral values such as honesty, honor and punctuality. Finally, volunteers can organize the psychological consultations of the centers or if suitably qualified provide this service.
---
Children's home
---
This Institution provides accomodation and takes care of children who are at risk, have been abandoned, or have lost their parents. Volunteers prepare children for school and help them when they return. This involves playing with the children and helping them to do their homework (painting, drawing etc). Volunteers can also assist in taking care of babies, helping to prepare their food, for example. They can also help in general cleaning or in the laundry etc. The work schedule is from 9 a.m.to 5 p.m. Help is especially appreciated on weekends.
---
Senior care center
---
This is a senior living home, with professional staff and and volunteers dedicated to provide care, companionship and permanent attention to elderly women. Currently, there are 45 female residents, whom have been abandoned in the streets or have been abused or neglected by their family. Although the local staff do all they can to care, provide food and love, there is such a need for more help! Volunteers help to clean the bedrooms and the house, washing clothes, help in the kitchen, feed the elderly women, spend time and play games with them. Also, give them the medicines, heal their lesions, cut their hair (if you can do it) and accompany them to the hospital.
---
---
Read carefully the information that appears in our web site regarding Ceica Peru Volunteer Program.

If you have any questions, write to us at: ceicaperuspanishschool@hotmail.com

Once we have answered all your queries and you are serious about applying for a volunteer position, send us your completed Application Form.

Once we have received the Application Form, we will ask you to send the documents which are requested by the relevant social organization, for example your résumé in Spanish, a letter of Introduction about yourself in Spanish, possibly a copy of your university degree or your certificate of studies.

After a couple of days, we will send you a response telling you which organization has accepted you.

Then you need to send us the Enrollment form plus the Enrollment fee of 20 dollars to confirm the booking of the program you have applied to.

Then we will be in touch with you by e-mail you to coordinate further details like your arrival, information about the accommodation, etc.
Please, read carefully the general rules of the Ceica Peru Volunteer Program. By submitting your Enrolment form and your Enrolment fee, you acknowledge and accept the following terms and conditions:

You confirm that you have read all of the information available in Ceica Peru Spanish School website concerning the requirements to apply for volunteer positions, the description of the programs that we offer, costs, etc.; and you understand and accept these.

Ceica Peru Spanish School expects that the persons interested in applying for a volunteer position, choose a Program for Volunteers that matches their needs and availability of time; and also, that they will fulfill with their responsibility of studying Spanish (if this option is chosen), accommodation and carrying out the volunteer work, because this is a commitment that Ceica Peru Spanish School assumes with the people in charge of the different institutions that accept volunteers

If you have to cancel your participation in Ceica Peru Volunteer Program for any reason, you can do it within 30 days before the start of your program, but your 20 dollars Enrollment fee will not be refunded.

If you decide to cancel your volunteer program due to an emergency after your arrival in Arequipa, we can refund you part of your money which will be determined by the management of Ceica Peru Spanish School.

If you decide to leave the accommodation and the volunteer work earlier than planned, no money will be refunded.

If you are absent from your accommodation no refund will be given. Also, it is not possible to postpone the days, which you are not in the accommodation, when you travel. If you stay after your programmed departure date, you have to pay these additional days in Ceica Peru's Administrative Office.

The total payment of your Volunteer Program is expected on your arrival, in our Administrative Office.

Ceica Peru Spanish School will make a contribution of 150 Soles to the Institution chosen by the volunteer. This contribution will be in the form of food, clothing, and articles for the children etc. The volunteer will personally hand this over to the institution.

You agree that pictures taken during your project, in which you appear, can be used in Ceica Peru Spanish School website and promotional materials, in order to promote our Spanish School.

You will be expected to behave in a manner consistent with the laws and customs of Peru. If you commit any illegal acts, offend local sensibilities, put at risk the welfare or safety of yourself or others, or act in a manner detrimental to the school, the local families or the social organizations, you will be required to leave promptly without recourse or refund.

In the event of you choosing to leave the organization at any time, or if the staff has instructed you to leave, Ceica Peru Spanish School is released from any responsibility for your welfare immediately.

Ceica Peru Spanish School does not provide insurance cover for you or your possessions. We are not liable for the loss, wear or damage to any personal items. You are advised to provide yourselves with appropriate health, accident and travel insurance for the time of your stay in Arequipa.